Film Stills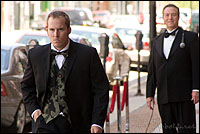 Photographing Films
<! end top -->
When I was younger, I used to put movie posters up on my wall. Since then, I've been the still photographer for two music videos and one independent film.
I love the challenge of capturing the feel of a film on a single frame. I especially love documenting those moments behind a film with candid snapshots that reveal the long hours and team effort that goes on behind the scenes.
© All images on this website contain the copyright of John Henry Abbott, and are watermarked to protect the rights of the artists within. Any attempt to use these images without the consent of John Henry Abbott will be met with the provisions of title 17 of the U. S. Code.