About John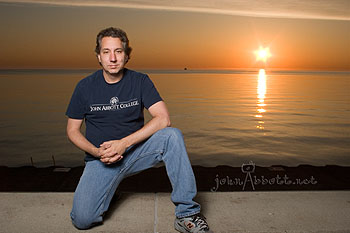 A short bio
<! end top -->
I picked up a camera at the age of 13. My parents gave me my first SLR for high school graduation, and I attended Columbia College majoring in Photography. I recieved my bachelors in Fine Arts in 1992.
While in college, I took a couple of acting classes and a dance class in anticipation that I would be photographing actors.
I wanted to know the language of performers.
What I didn't know is that I'd become one.
Since 1999, I've been an improviser, training at Second City, iO, and Annoyance Theater here in Chicago. I've performed on at least a dozen stages here in Chicago and four around the US. I currently coach improv teams and run a program at The Playground Theater called The Improviser's Studio. I love the rush of performing without a script. I've auditioned more times then I can remember, and take my responsibility as your photographer very seriously.
I interned at Playboy, shot product photography for Fibre Craft for 8 years, and took photos for Leslie Hindman Auctioneers. I am the official photographer for The Chicago Improv Festival and GaryCon.
I bike. I love to run during the summer. I have three cats. I read a lot of non-fiction. I want to know a little bit about everything.
My name is John Abbott. I shoot people for a living, and they pay me to do it.
© All images on this website contain the copyright of John Henry Abbott, and are watermarked to protect the rights of the artists within. Any attempt to use these images without the consent of John Henry Abbott will be met with the provisons of title 17 of the U. S. Code.